[Phoenix.com] High-precision equipment: Heptafluoropropane fire extinguishing system makes the world safer
人气:

-
发表时间:2019-04-30 20:34
Article Source: Shenzhen Zhuoan Fire Equipment Co., Ltd.
Popularity
: -Published: 2019-04-30 20:34
In recent years, as the process of urban modernization has accelerated, infrastructure construction projects have been increasing. Real estate, commercial office buildings, hotels, large shopping malls, logistics warehouses and other places are continuously increasing the fire safety hazards. Equipment is the industry foundation and urgent demand of the fire protection engineering market.
At present, the most widely used fire extinguishing agent is heptafluoropropane (HFC-227ea / FM200). It is a clean gas fire extinguishing agent mainly based on chemical fire extinguishing and physical fire extinguishing. It has high fire extinguishing efficiency, no pollution, non-conductive, and storage space. Small, non-toxic and non-residual.
Green and pollution-free
Heptafluoropropane fire extinguishing system is a high-efficiency fire extinguishing equipment. Its fire extinguishing agent HFC-227ea is a colorless, odorless, low-toxicity, good insulation, and no secondary pollution gas. The most important thing is that it will not deplete the atmospheric ozone layer, and can extinguish Class B, C fires and electrical fires with a low fire extinguishing concentration. After release, it does not contain particles or oily residues, and has no damaging effect on the atmospheric ozone layer (ODP value is zero) .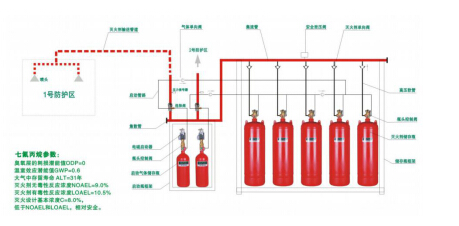 When a fire occurs, sevoflurane is discharged from the gas outlet of the tank, which can quickly remove the oxygen from the place where the fire occurred and cool down the place where the fire occurred to achieve the purpose of extinguishing the fire. The storage period in nature is short, the fire extinguishing efficiency is high, and the property and precision facilities will not be damaged. Moreover, the storage space is small, the critical temperature is high, the critical pressure is low, and it can be liquefied and stored at normal temperature. It is a gas fire extinguishing system that meets environmental protection requirements.
Fire extinguishing system mature
It is worth mentioning that the fire protection equipment system produced by Zhuoan Firefighting, a leading brand in China's fire-fighting gas industry market, uses well-known domestic and foreign brands. At the same time, a strict quality supervision system and a detailed Testing and inspection equipment. According to the size and structure of the protective area, we provide customers with automated fire protection system solutions, and develop and deploy multiple sets of fire protection systems for various industries. The acceptance rate is as high as 99%.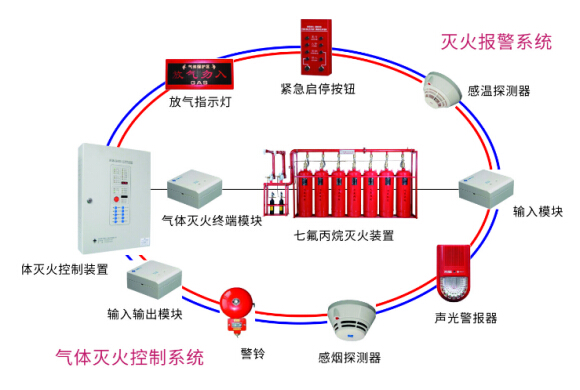 Heptafluoropropane fire extinguishing system mainly includes: automatic alarm fire control system, fire extinguishing agent storage bottle, start-up gas storage bottle, bottle head valve, safety valve, solenoid bottle head valve, selection valve, check valve, pressure switch, frame, nozzle, pipe system And other major components. According to the requirements of use, it can be composed of unit independent systems, combined distribution systems and pipeless devices.
Heptafluoropropane fire extinguishing system is suitable for electronic computer room, network room, telecommunication equipment, engineering control center, industrial equipment, library, museum, hospital, gymnasium, clean room, anechoic room, emergency power facilities, flammable liquid storage area, production Fire hazardous places, high and low voltage power distribution rooms and generator rooms.
Professional qualification certification
Zhuo'an fire-fighting products have passed the authoritative inspection by the national fixed fire extinguishing system and the refractory component quality supervision and inspection center, and obtained the product type approval certificate issued by the fire product conformity assessment center of the Ministry of Public Security, some of which have passed CCS certification of China Classification Society. And CCC certification, products and passed ISO9001: 2015 international quality management system certification.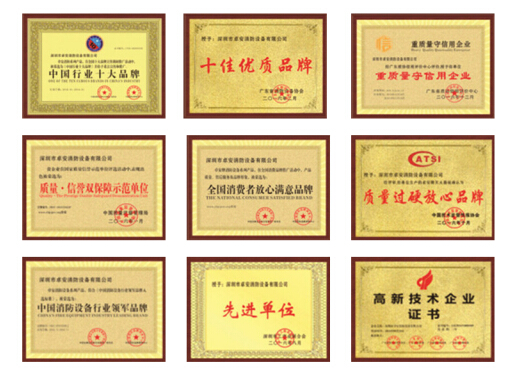 Engineering experience
As the largest comprehensive large-scale fire protection company in China, Zhuo'an has strong research and development capabilities in fire protection technology and ranks first in the industry. Zhuoan Fire's R & D team brings together many technical elites in the fire protection products industry, and has many years of rich product development experience. The company's senior senior engineers have participated in the preparation of many national fire protection standards and have considerable strength and advantages in drawing design, construction technology, production management, product quality, material procurement and after-sales service.
Advanced technology, perfect equipment, high-quality service, and good reputation are the great advantages of Zhuoan Fire Products Equipment. The company advocates the concept of "zero defects" and "do the right thing at once", integrates core products and technical resources of the fire protection industry, customizes integrated fire engineering system solutions for customers, and provides "high-quality, safe and professional" fire protection products. And technical services.
七氟丙烷灭火系统
Keywords in this article:
Heptafluoropropane fire extinguishing system